My dear daughter, Emily, exhibited incredible faith in me. The design was set in January 2017. The petal making started in February 2017. She didn't see the progress of the petals (she got daily verbal reports) or any progress on her dress at all until she came to town for her bridal shower in October of 2017. It was then she saw the impressive stacks of finished petals. I took her measurements. I also did the first fittings of the 7 beautiful girls who would be her bridesmaids. (That is another story for another day). At that point, her girl's dresses were much farther along than hers. She never showed any doubt that it would all be finished in time.
I failed to mention that my daughter is a true lover of all things Disney. Specifically Disney princesses. I knew she didn't want actual Disney princess faces, but symbols of each princess included in her wedding in someway. So I had the symbols embroidered to add to her petticoat. I love doing special details like that!
We squeezed in a first fitting the first day she came to town for Thanksgiving.
Because of her job obligations, Emily would not be able to come back for any more fittings. She wouldn't see her completed dress until the week of her wedding. So I got busy.
I had all the parts, I just had to assemble them.
Emily spent hours at the shop while I worked on her dress and she did DIY wedding stuff. The weekend progressed, along with her dress. The unbeaded lace was added to the bodice. The lace sleeves were added.
The VanLear™ Bustle© was tested to be sure she would be able to dance the entire reception night.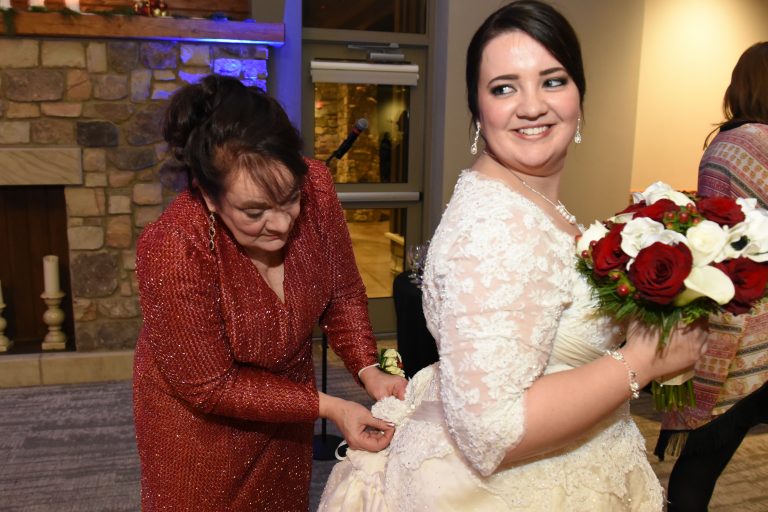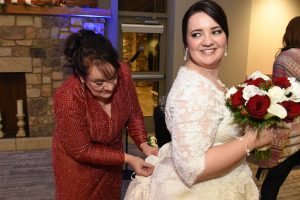 By the time she had to leave town, she had a pretty good visual.
The rest was done in three weeks. The bodice and sleeves of her gown were beaded. Buttons were sewn on. The petals were swing tacked. I made her navy blue velvet cape, trimmed it with white faux fur, lined it in white satin with navy blue snowflakes. Fabric I had designed as a surprise.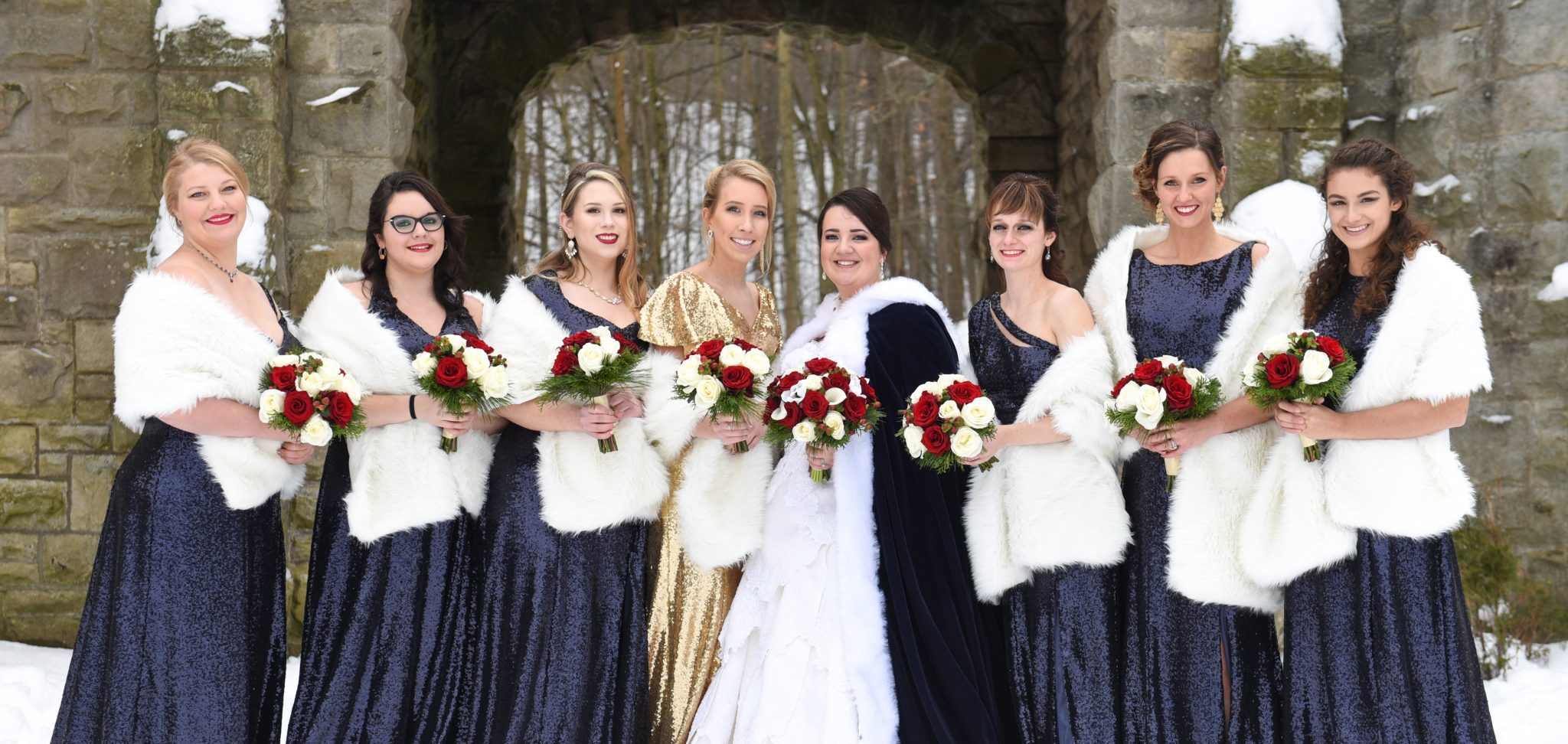 One incredible wedding gown, one fabulous cape, 7 glamorous bridesmaid dresses, one flower girl dress (Emily's grandmother & my mother) and my blingy red beaded dress were finished with one whole day to spare. I drove them to Cleveland on December 12, 2017. She married Jeremy on December 16th 2017. I now have two rather handsome sons, Kyle and Jeremy and a beautiful daughter, Emily.
(Many more photos of Emily's wedding are sprinkled throughout my website)